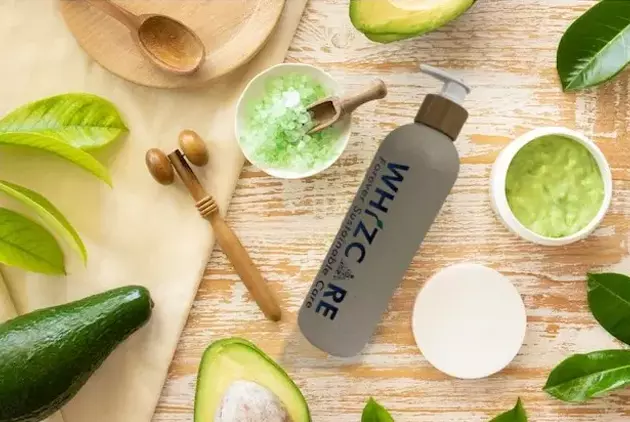 Luxury Shampoo For Frizzy Hair
Looking for a natural sustainable solution for frizzy hair?
Sodium lauryl sulfate is a harsh foaming agent which is an active component of many brands, it can lead to a dry scalp by striping your hair's natural oils and may cause irritation.
Many available shampoos are abundant with microplastic and plastic residues which not only damage the hair but damage the water ecosystem, these aren't completely degradable. WHIZCARE luxury shampoo is free from plastics, sulfate, paraben, phthalate, toluene, formaldehyde, dimethicone, retinyl palmitate, alcohol, and other cheap foaming agents. Our organic shampoo is made of natural, bio-based molecules which is effective but gentle on your scalp and hair. Our bio-based shampoo work with our conditioner to protect hair from damage; from root to tip.
We are against adding extra pollution and hence our shampoo containers are made of naturally sourced fibers; the empty bottle degrades when disposed of methodically.
The Marine extracts to keep the hair hydrated
Effectively removes dirt and greasy oils and replenishes the hair follicles to promote hair growth
Antistatic property makes hair naturally silky, and bouncy
Made from nontoxic, natural origin
Luxury product blended with world-class ingredients of premium quality to deliver the luxury silky smooth texture with a rich foam
Experience the luxury spa feel at your home
Ingredient:
Aqua, Coco Glucoside, Sodium Methyl Cocoyl Taurate, Sodium Lauroyl Sarcosinate, Quinine, Activated Marine Kelp, Avocado Oil, Moringa Oil, Squalene, Berries extract, Isopentyldiol (IPD), Biotin, Mangifera indica seed butter, Euphorbia cerifera wax, Vitamin A, C, D, E, and Group B.
Price range:
(All prices are exclusive of taxes)
Suitable for:
All hair types, exclusively effective for frizzy, dull hair
Production year:
2023 (TBA)